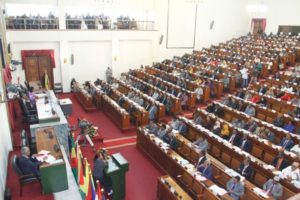 The state of emergency in Ethiopia has been extended by another four months due to what the minister in charge said was security threats on border areas where "anti peace" elements were still operating.
The Minister of Defence who is also the official in charge of the state of emergency, Siraj Fergessa, told the rubber-stamp parliament in Addis Ababa that the six month martial law needed extension by four months due to ongoing skirmishes along the border between Tigray and Amhara,  Oromo and Somali as well as Amhara and Benishangul Gumuz regions of the country.
The regime declared a six-month state of emergency in October 2016 following a year-long deadly anti-government protests in the Oromo and Amhara regions where security forces killed hundreds of protesters while tens of thousands of people were detained.
The statement by the minister confirmed reports of attacks in the last two months by forces of Patriotic Ginbot 7 and self organized armed groups against government targets.
There have also been several attacks by the special forces of the Somali region against the Oromos in south eastern Ethiopia that resulted in the death of hundreds of people and the raiding of cattle.
Cross border raids by the Murle from South Sudan against the Anyuaks in Gambella as recently as two weeks ago was responsible for the death, abduction and displacement of hundreds of people.
A fighter with Patriotic Ginbot 7, who wish to remain anonymous, says the decision by the regime to extend the martial law is proof that his forces have put pressure on the regime. He said they would continue the fight.